WHO
Elke & Bruno are Elke Thuy (°1982) and Bruno Herzeele (°1975).
CONTACT
Antwerpen, Belgium
COPYRIGHT
All the works on this website have been selected by Elke Thuy and Bruno Herzeele. All photographs have been made by Elke & Bruno unless otherwise stated. Reproduction and distribution of the website's content is not permitted without written consent by the artists.
© Elke & Bruno, 2018. All rights reserved.
TOGETHER
Together, we are holding one onion. Just as it is historically not exactly known where the onion originated, we do not precisely know how we got it in our hands. We found each other in 2003 and the onion found us at the same time. It is a perfectly normal onion, the same as in anyone's kitchen. But it is ours and we are holding it together. That makes it special. It is the world in our hands. Every now and then we pull back a layer. The discoveries we make along the way, we like to share with the rest of the world. We hope it can make you cry or laugh together with us. Or beter still: we hope it has the power to make us meet in action, and ultimately to achieve stillness. With every layer we pull back, we get closer to the core. As slow as we possibly can, because nothing is better than holding the onion together.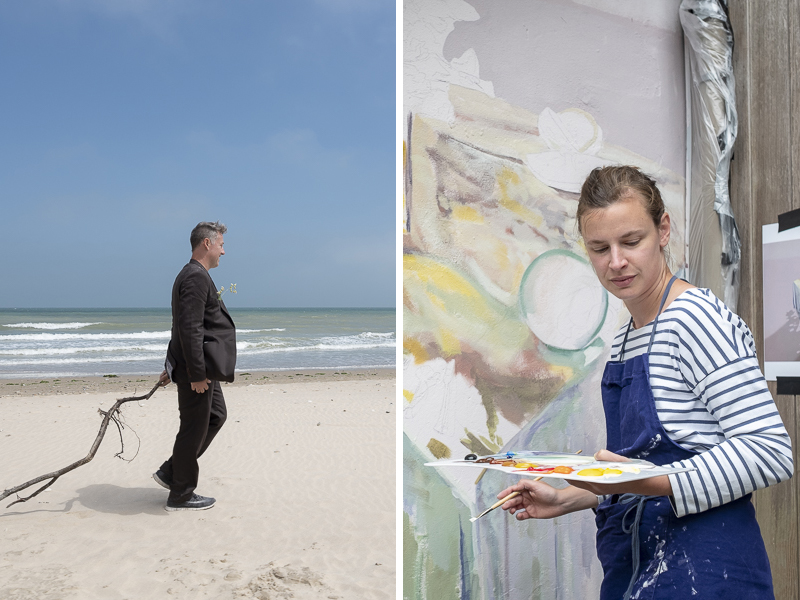 photos © Joshua D'hondt
SHORT BIOGRAPHY
ELKE THUY 2000-2004 Master painter, Royal Academy of Antwerp
BRUNO HERZEELE 1996-1999 Master Philosophy University Brussels, 2004-2005 Master Theatre studies University of Antwerp
2002 - 2008 Muhka / Muhka Media - Teacher and workshops / Troubleyn, Ljubljana, Muhka, Biannual of Venice, Royal Academy of Antwerp & University of Groningen - Performer and director of performances
TOGETHER
2003 - 2008 Villanella and Laika - Scenography plays / Ronse, Gent, Antwerp - expositions
2009 - 2012 Fotomuseum Antwerp - Founder, teacher and coach Flux young photography talent / Villanella - Scenography multiple plays / Het huis van bourgondië - Director Vrolijke verhalen over dode stadsvogels / Middelheimmuseum - Curator Expo Habitat / City of Antwerp - Founder of the Biodroom and author of the Biodroom Artist in Residence book
2013 - 2018 Laika, Bronks, Le Channel Calais, City of Antwerp, hetPaleis, De Brakke Grond, Flux Kortrijk, Destelheide - Installations in the public space. Research into strategies to make artworks with groups of people / Founder STUDiO iO murals